Academic Decathlon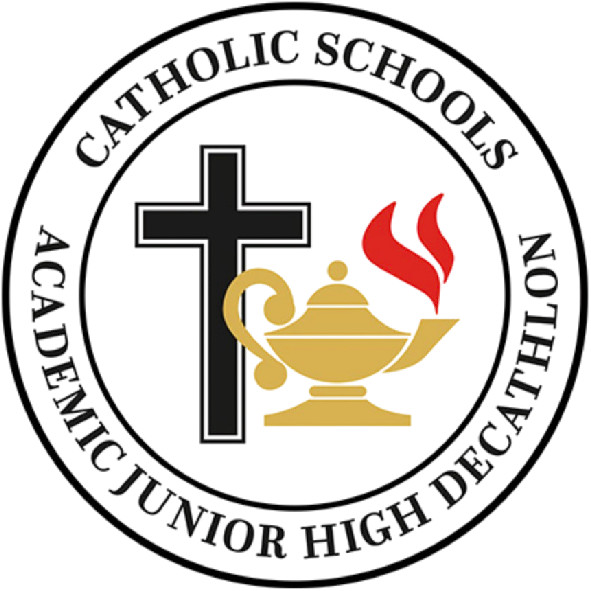 The Academic Junior High Decathlon is a competition for students in grades 6-8. There are ten events. Two are collaborative team efforts – a logic quiz with twenty rigorous thinking problems, and a super quiz with fifty multiple choice questions on five broad academic themes. The remaining eight events test individual knowledge of the Roman Catholic doctrine, English, literature, science, mathematics, current events, social studies, and fine arts (art and music). Awards are given for individual and team performance, and the winning school team from each geographic diocese competes in a state championship the first Saturday of May each year.
St. Gabriel consistently places in the top three winners for Overall Performance. Our reputation as the "winningest" team at the Decathlon motivates our team to strive for excellence each year.
Participants in the program, including parents, siblings, coaches, and team members, often remark that this experience not only celebrates Catholic education, but is life-changing.
The California Catholic Schools' Academic Junior High Decathlon (or AJHD) strives to bring forth academic talents and celebrate them in the context of spirit-filled competition. The five goals of the Academic Decathlon Program are:
to promote academic excellence;
to promote collaborative spirit and cooperative learning skills;
to promote logical and higher order thinking;
to recognize the contributions of parents, teachers, school administrators, and business and community members in supporting high standards for all students;
and to celebrate the diversity, excellence, and tradition of Catholic schools
I have been coaching Decathlon Fine Arts (both Individual and Team) for 18 years. Working one on one or in a group of 10 (7th and 8th graders) and being able to tailor the pace and the breadth of what we are studying to the individual student(s) is very rewarding. Decathlon challenges the students and enriches their academics at St Gabriel, while allowing them the opportunity to learn a great deal about Art History or Music (depending on the subject matter each year) that they would otherwise not know. It helps them make analytical connections in their young minds and to discover their passions. ( Ms. Donna Bruno)
Decathlon students are enthusiastic learners that love a challenge! I admire these students who are yearning to push themselves. I have coached Social Studies, English, and Literature, and I have been impressed each year with the dedication of the team members. (Ms. Ty Debrunner)
The Knights took 1st Place at Regionals on March 6, 2021 and moved forward to the National competition on March 13, 2021. We are so proud of the hard work, time, dedication, and teamwork that these Decathletes and their coaches demonstrated. Go Knights!
Half of our team also took home individual subject wins:
Fine Arts: 1st Place
English: 1st Place
Social Studies: 1st Place in Regionals and 3rd Place in States
Literature: 2nd Place
Science: 3rd Place
Super Quiz: 1st Place